Transfers from Malaga to Fuengirola

Fuengirola is a city situated in between Malaga and Marbella known for its popular resorts and a pleasant coastline with beaches streching as long as the eye can see. The distance from Malaga airport to Fuengirola is around 25 km.
The trip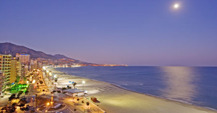 The transfer form Malaga to Fuengirola takes roughly 20 minutes.
The trip using our service form Malaga airport to Fuengirola is pretty much over before you realize it started.
About Fuengirola
Fuengirola is well known for its long and beautiful promenade.
Approx. 5.5 km of promenade with hotels, bars, discos and restaurants all within a walking distance.
---