Marbella airport transfers

Marbella is located approx. 50 km from Malaga going west. Car transfer from Malaga to Marbella roughly takes 30 min. Our Marbella airport transfer service provides a quick and comfortable way to get to this popular holiday destination.
Special transfer prices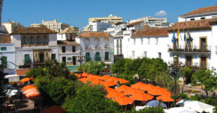 Alternative transportation from Malaga to Marbella via train or bus is so much more time consuming and troublesome, more so if you'll arrive with a luggage, also Marbella bus station is located far from the center making the trip even more uncomfortable.
Since our company is located in Marbella, we offer special prices for luxury and more affordable car transfers from and to Malaga airport.
About Marbella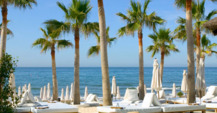 Marbella is referred to by many as the jewel of Costa del Sol.
Marbella is famous for its diversity of restaurants, rich nightlife, pretty old town & Orange Square situated in the heart of the town and its beautiful modern promenade that stretches as far as the renowned Yachting Marina, Puerto Banus.
Pricing table
Standard
Affordable
Executive
Prestige
Minivan
Marbella
80
100

120
110
Puerto Banus
90
120
140
130
---