Private excursions to Seville city

Seville is located roughly 220 km from the Malaga Airport and will take just around 2 hours by car.
City excursions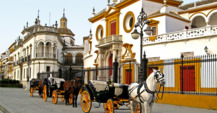 Seville is the 4th largest city in Spain and the Capital of the region of Andalucía. It holds just over 700.000 inhabitants and is located by the shores of the famous Guadalquivir River. Seville gets extremely hot in the summer, temperatures might reach around 50º C; hence if visiting Seville, stay way clear of the city during July and August.
Best times for visiting are spring from April to June or Autumn September and October.
Visiting Sevilla
Seville flourishes in April where the Easter celebration brings the city to its finest. The historical center of Seville is both charming and beautiful. When visiting the city the cathedral of Seville is a must see. It is reckoned to be the largest church in the world. Also Arabic Palace "The Royal Alcazar" is together with its gardens one of the most impressive monuments of Seville.
Seville very much has the feel of a capital city still without forgetting its traditional Spanish and Moorish roots, which beautifully come together in lovely buzzing restaurants and charming nightlife.
---